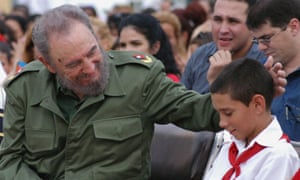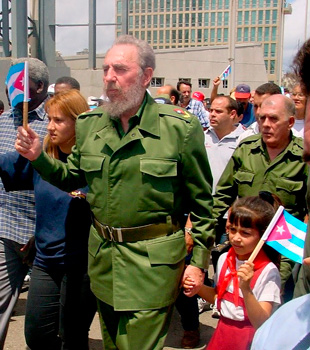 Writer's Note:  I originally published this piece on my DNM's World Facebook page in April.  This piece is timeless and still holds relevance.
I hope and pray every night for the day that he (Elian Gonzalez) really finds his true God. That God that saved him at the ocean."-Marisleysis Gonzalez (a cousin of Elian according to a source at CNN in 2017)

The advocates of liberty and freedom coupled with the Cuban exiles in Florida lost in an important battle around the time of the new millennium in our world. A mother gave her life to give a better life for her son. Only to have that taken away by the Clinton administration, Elian's biological father and above all Fidel Castro. Now as a grown adult, Elian is content on the kind of life the Castro dynasty has provided to the people of Cuba, for better or worse.
Cuba on the surface is a beautiful country with its coastlines and classic architecture, but that is only an honest covering for the tyranny that has controlled Cuba since the close of the 1950's. Fidel Castro's revolution which promised a greater and better Cuba, only would bring oppression, tyranny, and made its people into citizen slaves, while Fidel made himself into another false god. Many would be executed by Fidel's firing squads without a fair trial. Others were put into labor camps, while others flee into the shark invested waters as they attempted to escape to America 90 minutes away from the island country.
Fox News has produced a 40 minute documentary about Elian's brief time in America and a bitter custody battle between Elian's dad loyal to Fidel (or just a downright coward) and his family part of the Little Havana community in Miami for their streaming outlet Fox Nation. The documentary is narrated by Fox News Channel's Harris Faulkner (co-host of Outnumbered and host of Outnumbered Overtime) and features interviews with David Abraham of Miami Law School, Latino journalist Maria Elvira Salazar, and former congressman of Florida, Lincoln Diaz-Balart. Even if you know the story for the most part I would recommend that you take 40 minutes of your day to watch this film.
We don't know a whole lot about Elizabeth Rodriguez other than she wanted to come to America with her boyfriend (Abraham said he was a smuggler) coupled with her then five year old son Elian with her. Neither Rodriguez or her boyfriend would survive but Elian came to shore on Thanksgiving Day 1999 (which landed that year on November 25). The blood relatives would do all they could legally to make sure that Elian got processed. However Elian's father Juan Miguel made a statement to the press demanding that Elian be returned to him. Some in Little Havana believed than Juan was being nudged if not pushed into making such demands by Fidel Castro himself. The relatives of Elian said that Juan was going to make such an attempt to defect from Cuba himself and join the rest of his family in the Cuban Exile Community in Florida. We now know that was not going to happen. Either Juan lied, was bribed by Fidel and/or by his agents, or just downright cornered by this very evil.
Fidel himself made demands that Elian be returned to Cuba after Juan made his statement, and went as far to accuse the United States of stealing Elian. Typical demagoguery for someone that is truly a demagogue. Diaz-Balart would be preparing for the worst as he broke out in a cold sweat and Salazar echoed the same similar and frightful feelings. In spite of creating a PR publicity campaign on their own accord, it would become in vain. The Clinton administration under Attorney General Janet Reno would side with Juan and Elian was taken by force by Federal Agents, and eventually would be returning to Cuba with his father Juan.
Those who were on the side of America knew what would happen. He would become a poster child/human trophy for Fidel Castro. He would be guarded under lock and key by the Cuban government. He was reprogrammed to worship Fidel just like many children in his peer group and others that came before him and others afterwards. Unlike the other children, he was special because he was "stolen" from America and Reno corrected the problem and returned to what 'really belonged' to not only Cuba but to Fidel Castro. He was special because his mother was apparently a traitor to Cuba, and this prodigal son was returned to not only to his father but to the Lord and Master of Cuba, Uncle Fidel.
Their are so many children faceless and nameless in Cuba that become content in being servants to Fidel, but with Elian, Fidel could cement his legacy of rule over the nation, and Fidel did just that. To this day, Elian is still loyal to the legacy of Fidel and like so many of his peers, they were taught to worship Fidel like a god, and because that is what Fidel wanted to be like so many other tyrants. A god…with a lowercase g, but wanting to make that g into a Big G like so many before.
Fidel Castro's legacy as leader of Cuba was truly cemented with winning this trophy of sorts. Elian was not a person to Fidel, just someone he can use to make himself look good, and those who opposed Fidel over the years who died, were sent away to prison camps and suffered…their would be no justice for them. Fidel Castro died a successful, powerful and dare I say wealthy man. Fidel's evil and his evil empire WON! Elian became a "happily oppressed spokesperson for Cuban totalitarianism" according to Diaz-Balart. Just as Fidel himself wanted. Again make him and his legacy of Cuban rule look great. Elian was a great testimony to this. I am sure that Fidel made certain that Elain was given enough comfort (coupled with 24/7 security) unlike so many other Cuban children. After all you don't want to take your 'precious' for granted now. Fidel would have a successful five decade run of being the tyrant and demagogue of the Republic of Cuba.
Eventually Elain would grow up and Fidel would finally die with the Castro dynasty intact as Fidel is still worshiped like a god. Elian still carries on Fidel's legacy claiming to be Cuba's revolution. He went to say that it is up to the people of Cuba to fulfill Fidel's vision. After all Fidel taught Cuba to fly and dream and now without this man of vision, the people of Cuba must open a path forward.
Wait a minute what about Raul Castro? Can't he carry on the legacy of his brother? So far its still is about Fidel. What about Elian himself? Well he would graduate from a Cuban military academy and has become another worker drone in the Cuban system working in a state run plastic factory (what is not state run in Cuba?), and is even engaged to be married. He is happily content to be poor while he continues to worship a fallen savior in spite of the real God allowing Fidel himself to have a long life (90 years). And yet, the Castro family continues to be rich with earthly wealth while enslaving many in real poverty. Why? Because they can. Cause they care about the people of Cuba…the media told us so, for they loved Fidel as they loved many other Marxists and Maoists thinking they will liberate us from the God of Abraham whom they loathe and despise. Whom they think prevents the human race from "feeling good."
I am with Marisleysis Gonzalez. I hope that Elian finds Jesus Christ, for that will truly save his soul when America failed to put him on that path. Otherwise, he will join his false savior in the very same Hell that Fidel himself went to. If you are a subscriber to Fox Nation please do watch this very important program on Elian.
Check out my Facebook DNM's World.