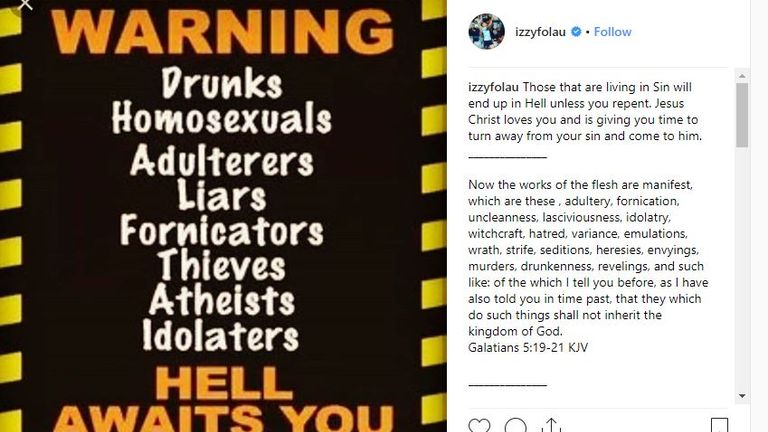 Writer's Note:  I wrote this piece back in May.  After hear today's "Generations with Kevin Swanson" podcast, I truly felt the need to post this commentary at IntellectualConservative.com.  Like Swanson I am not hearing much on Israel Folau, and the persecution he had to endure of his stance for not the Gospel of Jesus of Christ but more importantly the Law of God.  I write this as a warning to Christians and call them to support those who are being taking flak by the forces against God not just in the third world but in first (and second) world as well.  While conservatives all over the world and all faiths can and should support Folau, the ones that really need to stand with Folau are Christians who fear God and need to seek the grace of his son.  Truth be told, sin does "feel good" and when people are told 'not to feel good' regardless of how they who warn their neighbors, more often than not they want to put the messenger out of the way because they can't do it to God himself or Jesus.  They want their sins to be approved and affirmed by their friends family etc.  But God's Law is God's Law and we are all guilty, but that is why Jesus Christ came to die on a cross so that through him we can do better and make our world better for everyone and lead as many souls to Heaven.  I mean what I say; you stand with Folau and you stand with Jesus Christ. Folau told the truth, he told you God's Law and the only thing that can save you from eternal damnation is the Gospel of his son.  So my fellow Conservative of other faiths and my fellow Christian…do you stand with Folau?
On April 10 this year, Australian professional rugby player Israel Folau posted a generic statement (not created by him) on Instagram in which it warns people that if they don't turn away from certain sins as pointed out by Paul and John in their respected New Testament Letters that "Hell Awaits Them." Regardless if you say that or that they will not "inherit the kingdom of God," it really means the same thing. However Folau himself posted his own message which proclaims the Gospel of Jesus Christ.
Those that are living in Sin will end up in Hell unless you repent. Jesus Christ loves you and is giving you time to turn away from your sin and come to him.
Another poster responded with scriptures passages from Galatians 5:19‭-‬21, Acts 2:38, and Acts 17:30 showing their support for Folau. Another poster had this to say;
Amazes me that people don't read the full message where you wrote "Jesus loves you." That shows love not hate. God hates what nonsense we do but He doesn't stop loving us. God is with you and your family my brother.
Folau has his detractors too, but he pointed out the Law and Gospel as described in the New Testament Passages. Not just homosexuality but many of the things that bring instant gratification and pleasure to the human flesh. Even Folau himself pointed out that he is fallen too in his piece on his Playersvoice.com.au blog. It should also noted that Paul in 1 Timothy 1:14-16 says that he is the "Chief of Sinners." Yet its his faith in Christ in which Paul is saved by Grace, and so will the rest of those who repent and seek the grace of Jesus Christ.
However the LGBTQ/Rainbow Jihad has grown in power, and is using that power to force everyone to affirm their alternative sexual lifestyles as the next steps in the modern sexual revolution. Sadly Folau's stance for the Gospel gets in the way of this and wanting to appease this sexual liberation jihad, the governing body of the sport Rugby Australia has declared him guilty by a three judge panel for violating 'their codes of conduct.' The LGBTQ agenda indeed is a conflict of interest with the Judeo-Christian faith as well as most ancient religions.
Sadly, not all Christians are standing with Folau. Brian Houston who is the senior pastor of Hillsong Church and the Hillsong denomination, came out against him in a piece that was published April 15th. Houston admits that he admires Folau not just as a Rugby Player (also played Australian Rules Football/Footy), but also as a Christian who is not afraid to stand up for the faith. However Houston says this;
While sin is a real issue, the God I know and seek to follow is a God of love. He says that He did not come to condemn the world, He came to save it. And as Christians we would do well to follow the example of the founder of our faith. I believe there is a heaven and a hell but if you study scripture you won't read about Jesus screaming to people that they are all going to hell. In fact Jesus, John the Baptist and the Apostle Paul, all kept their harshest criticism for those who were religious and judgmental.
In 40 years of telling people about the good news of Jesus, I have seen that the "turn or burn", approach to proclaiming the message of Christianity alienates people. Scaring people doesn't draw them into the love of Jesus.
God cared so much for the eternity of humankind that he sent his only son to die in order that he might make a way for restoration and reconciliation. The problem with harsh comments in the media and disparaging statements on social media is that they create a further wedge between God and people.
The world doesn't need more judgmental Christians. In the eyes of many, the church is not relevant to their lives and is seen to be stuck in the past.
I would disagree, we need more judgmental Christians. Now we don't necessarily need every Christian to act like Bob Enyart, Kevin Swanson, or even yours truly. Now I am a very judgmental person and I am proud of it…but I try not to 'color outside the lines' on this. Never mind "turn or burn" their is something even worse than that. Ray Fava points out the term "fire and brimstone" in his commentary for NOQ Report. Have you forgotten one of the most important sermons in American if not Christian history? That being Sinners in the Hands of an Angry God by Congregationalist Protestant theologian Jonathan Edwards. If you think that Folau was preaching "turn or burn" or "fire and brimstone," Edwards by far is still better than the rugby player regarding God's warning to his neighbors.
Houston himself says that he would not "compromise the integrity of Biblical teaching" and says "that the Bible is clear about the consequences of sin." He goes on say this; "However, as Christians we are first called to love God and love other people, including those who believe differently to us."
It makes me wonder if he is truly sincere or if he is trying to protect his interests. That being Hillsong Church and the worship industry behind this global church. I can only hope and pray that Houston is not like the Pharisees who wanted Jesus be nailed to a cross because the Pharisees and those who were loyal to them did not get what they wanted from him. Sadly part of me thinks that Brian Houston is a modern day Pharisee. I truly hope I am wrong, but I have issues with the Hillsong machine, but that is another piece.
Christians, you must have Israel Folau's back. He spoke the truth and as the villain Colonel Nathan R. Jessup in the play and movie A Few Good Men said, people just "can't handle the truth." To stand with him, you are standing for Jesus Christ and the Law of his Father. To go against him, you might as well put Folau on a wooden cross along with Jesus and the other two on left and the right of him that deserved the death penalty of the day. Besides Folau was soft spoken in his stance for the Law of God and the Gospel of Jesus Christ.
Standing for God is not going to be easy. It will make certain people so angry and unconformable that you might lose your life for these immediate discomforts over immediate pleasures.
Check out my Facebook page DNM's World in which this article first appeared.